VLA Executive Director Eric Avildsen Announces Retirement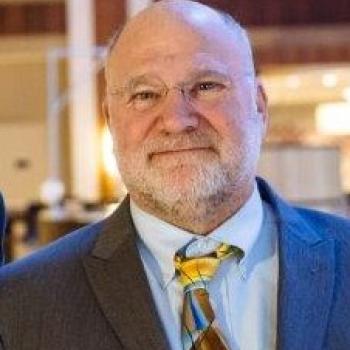 April 2022
Longtime executive director Eric Avildsen retired in October 2022.
The executive director of Vermont Legal Aid (VLA), Eric Avildsen, retired at the end of October 2022.
Avildsen had been executive director since 1988, when he moved to Vermont from Massachusetts. Under his direction, the size of staff and breadth of legal work undertaken has increased significantly. VLA now has a staff of 89, is organized into 11 projects and has an annual budget of about $9 million.
Board Chair Robert Appel, who has served with Avildsen for the past 10 years, said, "In my capacity as board chair, it has been a great pleasure to work together with Eric Avildsen these past 10 years to increase access to justice in our communities. Under his leadership, Vermont Legal Aid and its sister organization, Legal Services Vermont, have both grown tremendously across the entire state through its five regional offices. Eric is certainly leaving the organization stronger than ever. It's a privilege to count him as both a colleague and a friend." The Board is looking forward to finding a worthy successor.
Avildsen has dedicated his entire career to working in legal services, first as a VISTA attorney focused on utility law, then at Central Massachusetts Legal Services in Worcester as a poverty law Staff Attorney and Managing Attorney, before coming to Vermont. He has a Law degree from the Franklin Pierce Law School at the University of New Hampshire.
Avildsen said he has given the Board of VLA a long lead time to find a new executive director and to be able to provide support and orientation for the new director. He stated that it has been an honor to work with VLA's dedicated and talented staff doing such important work as well as the organization's engaged and active board.
VLA Deputy Director David Koeninger noted, "It's not hyperbole to say that over the past 33 years, no one has contributed more to the quest to increase access to justice in Vermont than Eric Avildsen." In particular, he has appreciated Avildsen's forward-thinking leadership, which has defined the organization over time and also in a crisis. "Eric's support for the program's advocacy has given VLA an outstanding reputation as a law firm not only in Vermont but nationally," he said. "And I most admire Eric for the way he handled our operations when faced with the Covid-19 pandemic. He kept the program running smoothly and placed the safety of our staff as his number one priority, so that staff could focus on making sure that clients received service in the most difficult of times."
A search committee comprised of board members and representatives of the staff has begun the process of identifying a successor.
Avildsen says that making the decision to leave was very difficult. "I have been incredibly fortunate to be able to do a job I love, working side-by-side with such wonderful people. VLA did an incredible job helping Vermont's most vulnerable people through the pandemic and continues to be a very healthy and strong organization. The time is right to bring in new leadership to help VLA define its next chapter."  
On April 26, 2022, WCAX-TV3 interviewed Eric Avildsen about his long tenure at Vermont Legal Aid
Avildsen Awarded the Judge Peter W. Hall Integrity Award
At the end of April 2022, Eric Avildsen was awarded the first-ever Judge Peter W. Hall Integrity Award from the Young Lawyers Division of the Vermont Bar Association. Judge Hall died of cancer in March 2021 and the award, in addition to honoring Judge Hall, is intended to highlight the critical role of integrity in the legal profession. The award goes to an individual "who exhibits the exceptional characteristics for which Judge Hall was best known: integrity, humility, empathy, good humor, love of Vermont and a steadfast commitment to public service and the rule of law." At a Young Lawyers Division event, presenters noted that Avildsen received more than 40 letters in support of his nomination for this inaugural award.