Vermont Legal Aid Asks Legislature for Additional $1,310,000 in Funding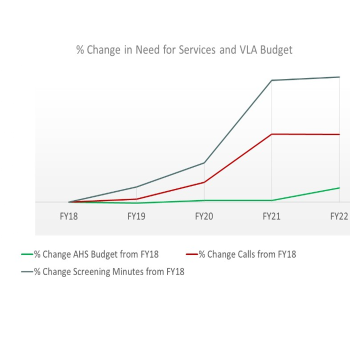 March 2023
VLA is asking the legislature for more funding to address the high demand for services.
VLA is asking the legislature for more funding to address the high demand for services. These are the three top reasons for the request.
1. Maintain Current Staffing: $500,000 to maintain existing staff; build a COLA into the base moving forward commensurate with state employees.
Poverty, Disability, Elder Law Projects lost 30% staff (8.3 FTE) over 5 years.
$130,000 (11.6%) increase in health insurance costs.
$370,000 due to record high inflation increasing most other expenses 5%, including COLA + step for salary (less than the rate of inflation of 8.3%).
2. Increase Intake and Core Program Capacity: $360,000, for 3 FTE.
Need to address 100% increase in requests for assistance.
More complex calls require 200% more time.
Intake attorneys provide more advice and consultation, inadequate funds for staff adequate to meet demand at a higher level of service.
3. Foreclosure and Consumer Debt Defense: $450,000 to address next wave.
27.6% of loan modifications in FY22 Q3 did not reduce monthly payments (i), up from 21.8% in FY22 Q2, and 19.2% in FY22 Q1.
VHFA projects implementation of a waitlist system for Homeowner Assistance Program in April or May.
Mortgage interest rates increased from <3.5% in January to over 7% in October, now around 6.5% for 30 year fixed.
Used car prices increased 42.5% from February 2020 to September 2022, (new vehicles are up 6.3% in the last year), while average wages increased at a much slower rate, 7.4%. (ii)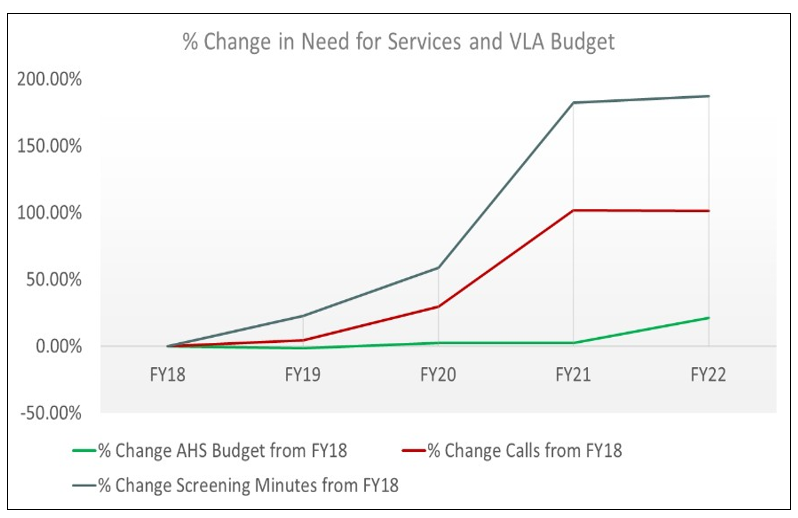 Vermont Legal Aid defends the rights of Vermonters
Preventing Illegal Lockouts: An elderly, disabled woman rented a room in a hotel for almost a year to be near her medical providers. This was not temporary housing through the transitional housing program. She had been unable to find affordable housing. When she was unable to pay the full amount of her bill, the hotel locked her out of her room by deactivating her room key. However, because she had been living in the hotel for more than 30 days, she was a tenant and entitled to all of the due process in the Residential Rental Agreements Act — including notice and a court eviction process. We filed a case against the hotel and moved for a TRO which was granted — preventing the tenant from being homeless. She has been actively looking for affordable housing.
Accessing Education for Students with Disabilities: A 15-year-old with a disability had made no progress in school, and struggled to access any classes. The school was not providing a 504 plan and misrepresented to the mother that the plan was expired. We assisted in requesting a special education evaluation, and secured a placement for the student at a private school with disabled and non-disabled peers. Since entering the school, our client has become a published poet, continues to write, is interested in and involved in extracurricular activities for the first time, and is becoming politically involved. His mother shared that she credits our help with saving her son's life and bringing him back to her.
Restoring Rights: A 21-year-old woman with a developmental disability had guardians who were confiscating her wages, refusing to sign a Section 8 application, and denying consent to register for a vocational education program. VLA secured discharge of the guardians and the assistance of the Office of Public Guardian to help her regain control of her finances and housing. After a year she was ready to be her own guardian, and we filed a stipulation to end her guardianship completely. She lives with her partner and has become a mom!
i.  OCC Mortgage Metrics Report, https://occ.gov/publications-and-resources/publications/mortgage-metrics-reports/index-mortgage-metrics-reports.html
ii.  J.P. Morgan, Inflation and the Auto Industry: When Will Car Prices Drop? Available at https://www.jpmorgan.com/insights/research/when-will-car-prices-drop; Vermont Department of Labor, Economic & Labor Market Information, available at http://www.vtlmi.info/indareanaics.cfm?areatype=01&src=cew&base=ind20222&from=ind20202&chgtype=percent&area=000&tw=Y.