Commentary: Listen to the Voices of People Experiencing Homelessness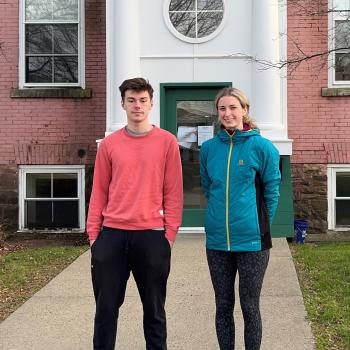 January 2023
This commentary by interns Brianna Ghosn and Ned Smiley is a result of interviews with Vermonters who are homeless.
This commentary is by Brianna Ghosn, a senior at the University of Vermont, and Ned Smiley, a senior at Champlain College. They volunteered at Vermont Legal Aid in late 2022 to work on an interview project. This commentary is a result of those interviews with Vermonters who are homeless.
The homelessness crisis has exploded in Vermont. Since the Covid-19 pandemic, there has been a 133% increase in people experiencing homelessness in Vermont.
Homelessness is a complex and multifaceted issue that goes beyond the individual and takes the community to resolve. To better understand what it would take to end homelessness, we talked with people experiencing homelessness about their perspectives and the support they need. We talked with people connected with several different services in the Burlington area, such as Spectrum Youth Services, Pathways Community Center and the Salvation Army. Throughout the article, we use pseudonyms for individuals in order to disguise and protect their identities.
Many people expressed their need for more available and easily accessible mental health services and social supports.
Kai has been in need of a psychiatrist, yet they have been waiting for months to see one. Kai's anxiety, depression and other major health issues have worsened during this time.
Jaden struggles to find employment. Jaden suffers from social anxiety and major depressive disorder, yet he still would like to try to work in the community. He feels discriminated against because of the numerous times he has been rejected. Jaden feels that it's "easier to just lump us on one side."
There are simply not enough services available to meet the needs, and many of the organizations that support people experiencing homelessness cannot do any more with the resources they have. It is also hard to even find out what services are available.
Marcel, a resident of Burlington, said, "There needs to be more public and spreading of information for all services and supports for individuals who struggle with housing and mental illness."
Vermont is currently ranked as the fourth most expensive state, with the city of Burlington and South Burlington being the most expensive areas. Marcel recalled his experience working full-time and even overtime with a minimum wage salary. Marcel was still not able to pay his rent.
The high concentration of college students also creates a high demand for housing in Burlington and contributes to unaffordable rent rates. If we are to end homelessness in Vermont, and particularly in Burlington, we need more affordable housing.
Housing is a factor often taken for granted in establishing oneself as a part of the everyday community. Many of the people we talked with expressed how hard it was to feel separated from the community and how they really wanted more connections.
Michael said, "Even just check-ins for general well-being" would be really helpful. Janna stated that "the community needs more support around drug and alcohol treatment." Jaden states, "For younger and elder support, we need more places like this (Spectrum Youth Services in Burlington)."
But by far the most feedback we got was about the urgent need for more community awareness and support. Shawn stated, "More information on homelessness should be spread throughout the community." Sawyer said, "Community action is the answer!"
As Burlington continues to grow and change, it is important that we keep our entire community in mind, especially the people who feel alienated and isolated on top of struggling without permanent housing and needing basic support systems. We as a community can come together and end the homelessness crisis.
Burlington has proudly spearheaded important social issues such as LGBTQ rights and the Black Lives Matter movement, and we have amplified voices that were going unheard. We must come together and be the example for how a community can overcome even the most entrenched, rooted social issue of our country. It's time to let the voices of a growing, ignored and isolated population speak out for their deserved rights as citizens.